Nicholas Hawksmoor School
Class of '77 re-union

Were you in the upper 6th form at Nicholas Hawksmoor School, Borehamwood, in 1977; or in the fifth year in 1975? You would have been amongst the last intake at 11 years old, in September 1970, to Borehamwood Grammar School, or amongst the first intake at 13 when it became an upper school.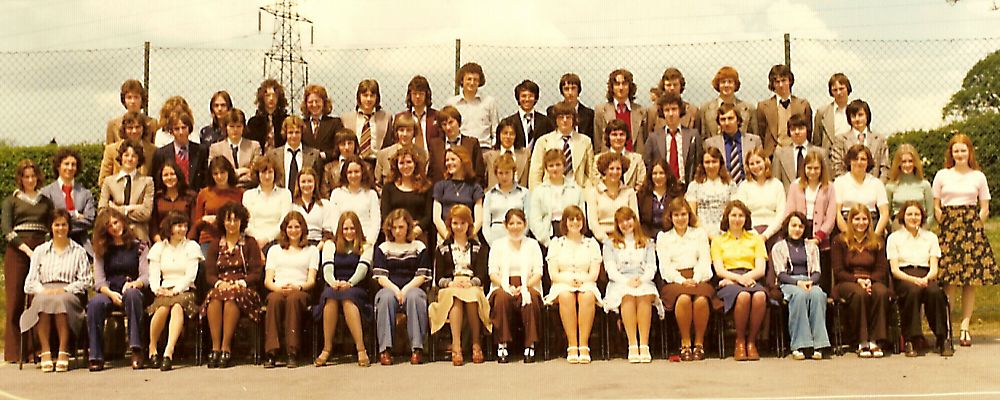 Lower Sixth Form 1976. Photo supplied by Hazel Copeland [Wood]
If you were there, then put this date - Saturday 8th July 2017 - in your diary, and come along to our 40th anniversary re-union in 2017. We have been meeting every five years since 1977 on the 2nd Saturday in July.
40th Anniversary Reunion in 2017
Saturday 8th July 2017 at the Mops and Brooms.
I run an e-mailing list, on which reminders are posted from time to time. Contact me via caves.org.uk/gibson/ if you want to be added to the list.
We also have a Facebook Group, hawksmoor77, which you can join. If you are not familiar with Facebook you can read this guide.
Please note, though, that both the list and the group are intended primarily for people in our year at Nicholas Hawksmoor (and those who had close ties to our year) they are not intended to be for general school reunions.
---
35th Anniversary Reunion in 2012
Around 40 people met on 14 July at the Mops and Brooms - a very good turnout, almost beating the record set in 2002. Mr Hopkins also put in an appearance. My photos of the 2012, 2009, 2007 and 2002 reunions are on Flikr here. Julia also has some photos; go here and look for 'Nostalgia' set and 'Reunion 2012'. If anyone else posts any photos I'll add links here.
---
32nd Anniversary Reunion in 2009
19 people met on 11 July 2009 at the Mops and Brooms to celebrate a special "now we are 50" anniversary. And although I said I would put the photos on the web sitre, I never got around to it. I havent properly updated this site since 2007 so I might take the opportunity to give it a facelift after the 2012 event.
---
30th Anniversary Reunion in 2007
The 30th Anniversary re-union took place in July 2007, with 24 people attending
---
25th Anniversary Reunion in 2002
The 25th Anniversary re-union took place in July 2002, with a record attendance of 43 people, and six teachers.
---
If you were at Furzehill Junior School: did you know it has closed down? You might like to look at www.furzehill-school.co.uk.
Nicholas Hawksmoor School (formerly Borehamwood Grammar School) is no more! It is now Hertswood School, taking pupils from 11 to 18.