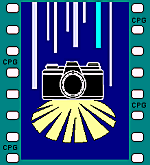 This is the UK Cave Photography Group at caves.org.uk/photography/.
Our aim is to provide a means for cave photographers to keep in touch and to exchange news and ideas.
The group was formalised in November 2000, although our annual field meetings go back to 1995. We started issuing a newsletter in December 2000, but this has proved difficult to continue with. Six issues were published (ISSN 1478-9639), the last in Feb 2004, but we have now formally ceased publication. We have not managed to organise a field meeting for some time either.
We are currently not taking subscriptions
Our newsletter (ISSN 1478-9639) was intended to allow people exchange news, ideas, and experiences of photography and video in 'dark places'. however, it proved to be too time-consuming ot continue publication of this, and publication has now ceased. Newsletters 1, and 2 are still on-line; also extracts from 3 | 4 | 5 | 6.
Enquiries to Footleg (Paul Fretwell), The Old Bakery; 39 Mill Street, Isleham, ELY, CB7 5RY Tel: 01638 780039. cpg-enquiries[at]caves...etc.